Massage Therapy
Massage Classes Louisiana Massage CEU's
General Classes
Miscellaneous
Matthew Wood - Shamanic Herbalism: Animal Medicines / Plant Medicines
March 24-25, 2017 Friday & Saturday 10 AM - 5 PM
Cost is $225. Reserve your spot if you are sure you want to come - class size is limited to 20..
In this two day class, Matthew Wood will share the spiritual nature of plants that he has learned, intuited, and experienced based on over 30 years of immersion in the world of plants and their teachings.
He will paint a picture of his use of the "inner medical license" provided by nature through the doctrine of signatures - using what a plant looks like, how it is used by animals, their spirit signatures - and lead us on plant journeys to show the inter-connections with their healing.
Matthew Wood, as all good storytellers do, will take us out of the mind and into the spirit of plants. Many herbs have 'shamanic" forces that touch our souls and hearts in ways that open us up to Nature and the Old, Old Path of Nature Wisdom.
"Herbal knowledge interpentrates the animal kingdom with human healthcare. The different functions of human society, the different constitutions and personalities of people, the different medicine gifts, the organs of the body are all represented by the animal powers or medicines, and these in turn relate to plant medicines: bear, deer, badger, panther, catfish, wolf, etc...In this class we learn to see the inter-connections and to practice a very simple and practical herbal medicine. We will also practice plant journeying." Matthew Wood
Matthew Wood is a prolific author. Below you will find titles of his writings:
The Earthwise Herbal Repertory: The Definitive Practitioner's Guide Nov 1, 2016
by Matthew Wood and David Ryan
The Book of Herbal Wisdom: Using Plants as Medicines Sep 15, 1997
by Matthew Wood
The Earthwise Herbal: A Complete Guide to New World Medicinal Plants Apr 28, 2009
by Matthew Wood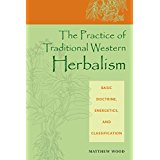 The Practice of Traditional Western Herbalism: Basic Doctrine, Energetics, and Classification May 10, 2004
by Matthew Wood
Seven Herbs: Plants as Teachers Jan 29, 1993
by Matthew Wood
Traditional Western Herbalism and Pulse Evaluation: A Conversation Jan 9, 2015
by Matthew Wood and Francis Bonaldo Bégnoche
The Earthwise Herbal: A Complete Guide to Old World Medicinal Plants Jun 3, 2008
by Matthew Wood
Vitalism: The History of Herbalism, Homeopathy, and Flower Essences Mar 16, 2000
by Matthew Wood
Healing Lyme Disease Naturally: History, Analysis, and Treatments Apr 27, 2010
by Wolf D. Storl and Matthew Wood